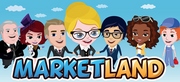 What is the Marketland?
Edit
Marketland is a Facebook game where you can experience being a real boss of your own retailing business store. Basically the game give you a chance to turn your in game small corner shop into a huge department store. The game features decorating your store at your pleasure by displaying all kinds of products. Marketland lets you please your customers, launch campaigns, and make a fortune on your business. If you enjoy playing games that lets you be an entrepreneur then for sure you will love playing Marketland on Facebook.
Ad blocker interference detected!
Wikia is a free-to-use site that makes money from advertising. We have a modified experience for viewers using ad blockers

Wikia is not accessible if you've made further modifications. Remove the custom ad blocker rule(s) and the page will load as expected.